I'm probably going to be all over the place in this post. First off, I got a blogger "award":) Thank you to Colleen at The Princess & The Monkey for thinking my ramblings were worth reading!
The rules of the award:
1. List 6 things about yourself
2. Pass this award on to others
Six things about me:
1. I got the stomach flu on Tuesday, it was horrible. I pray that no one else gets it!
2. When I was little I wanted to be a barrel racer when I grew up.
3. I liked horses so much I majored in them in college. I have a degree in Equine Science with a concentration in Industry. I worked at the Arabian Horse Association for two years before I became Josie's mommy (it was an experience, being that I am a Quarter Horse girl at heart!). I still have a state 4-H judging card, and though I haven't judged since Marie got sick it's something I love doing.
4. I still get up at night at least once to make sure Josie is breathing, Marie sleeps next to me and I check that she is still breathing far more often.
5. I'm still nursing Marie. I've nursed her twice as long as I nursed Josie (she weaned herself at 10 months). I hope that we can continue nursing for a long time to come, although I never considered myself a proponent of long term breastfeeding, it is nice.
6. At our house, we girls must always have our toenails painted. Marie always has hers painted too. It's a girl thing, Daddy doesn't understand.
Pass the award along...
I'm going to pass it on to 4 of my favorite blogs to read. They're the ones I find myself checking at least once a day!
1. Bear and Bambi's Adventures
2. Angels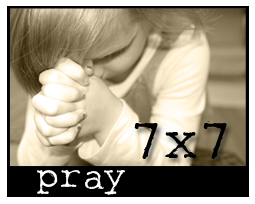 Next up, is a very cool thing I discovered at
Bring The Rain
. Her post, Seven Prayers a Day, hit home for me because I do pray for my children every day, but sometimes I'm a little lost on what to ask for. I pray more in vague ways, let them be healthy, let them be happy, let them know peace, but I love the way she has done this. When things are rocky here I get such a peace from scripture, and I love the idea of praying it aloud to my girls. What a comforting thing for both of us. I'm going to try really hard to put this into practice, and I wanted to post on it because maybe it's something some of you would like to do to.
The seven prayers are listed on the Bring the Rain website and I'm thinking I'll print out a couple and put one on the fridge, one in Josie's room, etc. and try to get into the habit.
Lastly, you can catch us later, we're outta here! Tomorrow morning we are leaving for a much needed, much anticipated vacation that I didn't want to say anything about because if Marie wasn't doing well we wouldn't go. But she is, and we are so we're going! We rented a cabin in the mountains and we'll be gone until next Wednesday!
See you all later!
Shan