So... sometimes I say things and then I change my mind. In truth, I like my blog much, much better than the
CaringBridge
site. CB is so clinical... I prefer it here with my funky background and ability to put pictures with words.
Yesterday I was a little fried. It's been a long three weeks here. Luke's been gone a lot, I've been dealing with medicaid (I deleted that post, it was angry and political, two things I'd rather not have here). Sometimes I feel a little critiqued because I choose to share parts of my world here, and I was feeling uncomfortable with some people looking in. Then I thought about it and I figured, what the heck? People will think what they want to regardless of what I put in my public journal or not.
That and we have so many faithful prayer warriors, I cannot think of leaving all of you out of the loop. Your prayers have blessed us, it would be hard to do our thing without the support of so many, so I changed my mind. That and I'm a girl, I'm allowed to change my mind as often as I want ;)
Josie is doing great, no more fever! She's
handling
preK
like a champ and though she was wimpy at soccer practice on Tuesday she did have fun so that counts for something. She is excited to go to her game on Saturday, excited to have her cousin's J and J visit us, and excited to have lunch with Uncle Mickey. She got a new t shirt with Strawberry Shortcake on it, old school, not the new look but the Strawberry Shortcake from when I was little. She loves it. She
wants
to wear it every day. It is dirty, guess how happy that makes her?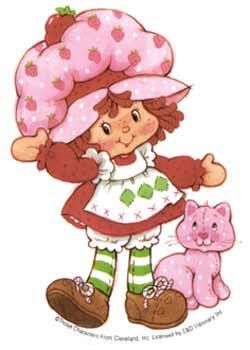 Marie is doing alright, she is trying to cut three molars at once. The bottom left came through end of last week but the other three haven't and they're hurting her. Yesterday she had a bad day, stiff a lot, no appetite, fussy, unable to settle down to nap or sleep until her Tylenol kicked in. She needed held a lot.
The past few nights Marie has had a few episodes that have alarmed Luke and I, adding to my overall neurosis. She will wake from a sound sleep stiff as a board, arching her back with a very rapid heart rate (too fast to count) and breathing almost as if she is hyperventilating. It's no good. It's so scary when she does things we've never seen before. I've got a call in to
nuero
, hopefully we figure it out. It seems like something really hurts, and I hate that.
She's also started to have more trouble eating by mouth. The act of swallowing is so complex, and she struggles with that. It's hard to see her choking more and more, and really be unable to help. It is nice to see that she still really enjoys food, so we'll make due. We have had to stop giving her bits of Hershey kisses, and
dum
dum's
are sometimes a little scary because she will bite the sucker off the stick. If you have any ideas of a safe candy we could try please let me know!
Saturday will be a big day, I am going to go to S-town by myself with the girls. W e have to go to
Wal
Mart (ugh) and then soccer and lunch. It's the first time I've done this in over a year. I will be brave. I will have my baby sling, it is my security blanket (and Marie likes to hang out in there). Now all I need is some sort of neon sign letting strangers know "Don't Touch My Baby!".
So, please pray that Marie's new episodes stop, we're going to up her movement disorder med a little to hopefully stop it. Pray too that those teeth come through! Much Love-
Little Miss Sunshine and Little Miss Naughty.